Snow Beast Guide
« Back to Articles Index
The Snow Beast is the powerhouse of massive water and air damage. Because it can freeze, it's quite difficult for mid-range battlers to keep up. To defeat such an opponent you could use a bit of strategy and a lot of patience.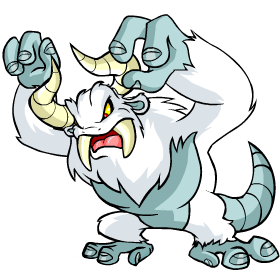 Getting the Snow Beast as a challenger is even more difficult than fighting him. Several reports shows that it may take you days, weeks or even months to obtain him. Others are lucky enough to get him while paying Cliffhanger. But still, the most successful way of finding him is by refreshing (patiently) in the Advent Calendar. I would suggest using multiple tabs to increase the chances of finding him.
Recommended Stats
Recommended Stats
Level
At least 50 for the faerie abilities.
Hit Points
Minimum of 85 HP, but the higher the better.
Strength
At least 125 for the boost. 200 is even better.
Defense
Minimum of 55 boost, but the higher, the better.
Faerie Abilities

Positive Thinking
Level 10, 4

An Icicle
Level 25, 10

Lens Flare
Level 50, 15
Opponent Weapons
This section is loaded by javascript so make sure you have that enabled! ;)
Equipment
The Battle
The Snow Beast can hit hard and fast, as well as freeze you with his weapons. To avoid this, start out by attack with your Constant + Freezer + Lens Flare. Provided the Snow Beast doesn't use his Shhhhhhhhh... ability, you shouldn't take any damage.
Since you used your freezer on the Snow Beast the last turn, Turn 2 is your opportunity to hit really hard. Depending on your chosen weapons, use your 15-icon muffin x2 or your Bomb + Constant paired with an attack faerie ability like An Icicle.
At this point, the Snow Beast should only have about half of his HP, while you should have all of yours. From here, you can use your reflectors and An Icicle, healing when you need it. If you have a lot of HP left and/or are feeling brave, use your constant. Good luck!
Conclusion

With enough patience you will be able to defeat this challenger and obtain this shiny trophy for your cabinet.
Special Thanks to: darkwarrior1234
This article was written by BlackJaguar for The Daily Neopets' Battlepedia.
« Back to Articles Index
Welcome, guest!
[Your Wishlist]
[Login] [Register Acct]



Search Weapons
Neopets Battle Navigation
Neopets Battle Articles
Neopets Weapons Items
TDN Network