The Secret Laboratory
« Back to Articles Index
The Secret Laboratory can damage your pet permanently by boosting or decreasing your stats. It can also change the gender, the color or the species of your pet. Use it only if you don't care too much about what your pet looks like.
In order to access the Secret Laboratory, you need to collect the expensive 9 map pieces. Then, you need to go here with all the pieces in your inventory. As a reward, you will be able to zap one of your pets once per day!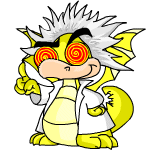 The ray is fired at your pet...

...but what could happen?
Effects of the Secret Laboratory
Increase your pet's...

Hit Points
Strength
Level
Movement
Defense

Decrease your pet's...

Strength
Level
Movement
Defense

Change your pet's...
Doing nothing at all.
Have fun zapping your pet!
This article was written by Crimsonite for The Daily Neopets' Battlepedia.
« Back to Articles Index
Welcome, guest!
[Your Wishlist]
[Login] [Register Acct]



Search Weapons
Neopets Battle Navigation
Neopets Battle Articles
Neopets Weapons Items
TDN Network