Neopets Battledome Basics
« Back to Articles Index
The Battledome is one of the most famous feature in Neopets. Here, pets may battle one another or 1 player challengers. Battledome is a complex game especially those who are new to it. This guide is written to help new battlers into becoming Battledome Masters.
---
Choosing a Pet
To play battledome, you need to have a pet. If you look at your pet lookup, it will show the stats of your pet. The higher the number the stronger your pet. To train your pet, here is TDNBP's Fast Training Guide.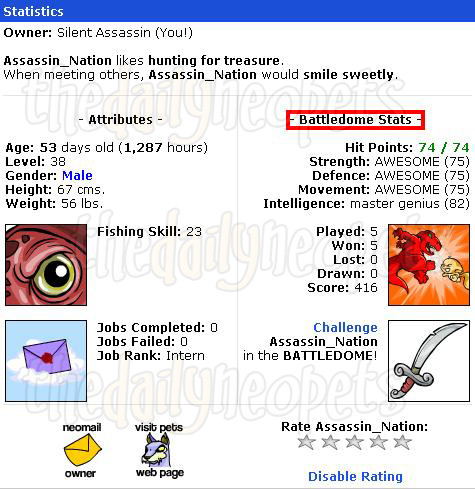 ---
Equipping a Weapon
Now that you have a pet, your next mission is to equip them with weapons. There are literally thousands of weapons around Neopia. Here is a guide for the basic weapon sets you might want. Weapons can be bought via the Weapon Shops, Shop Wizard or Trading Post.
To equip them, go to your inventory then click on the weapon. Then on the drop down menu, choose the pet you want to equip the weapon to then click Submit. Now you have equipped your pet. Remember that you can only equip 8 Weapons to 1 pet.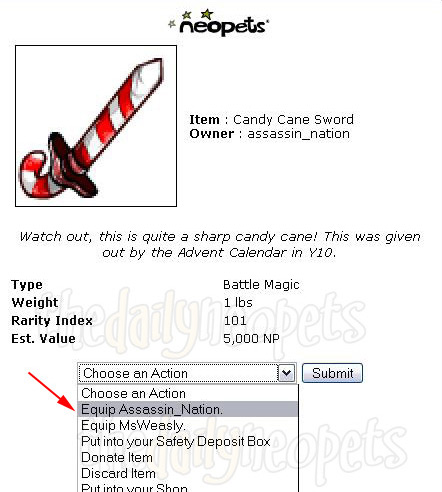 ---
Removing a Weapon
If you want to remove a weapon, go to the Equipments page. There you will see all the weapons equipped to your pet/s. Enter your pin (if you have any) then click on the weapon you want to remove. Weapons will also be removed if you pound or transfer your pet. All removed weapons will return to your inventory.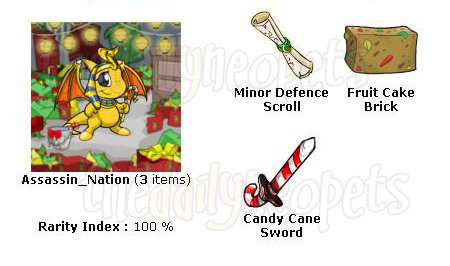 ---
Abilities
Abilities can be obtain from opening bottled faeries at specific levels. If you bless your pet with a bottled faerie and your pet does not have the sufficient level for the next ability, the faerie will not give you the next ability. Here is a list of all the faerie abilities. The most useful abilities that you must have are Burrow and Sink. Regeneration, Healing Vapor and Drain Life are also useful abilities.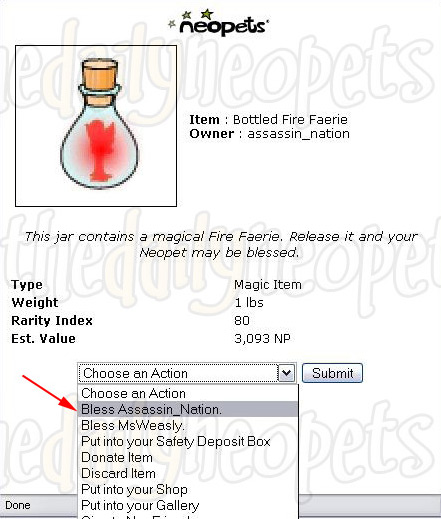 ---
Activating Abilities
Once your pet has been blessed with an ability you must activate them so you could use them on battle. To activate them go to your Quick Reference page then choose View Abilities option on the drop down menu of the blessed pet.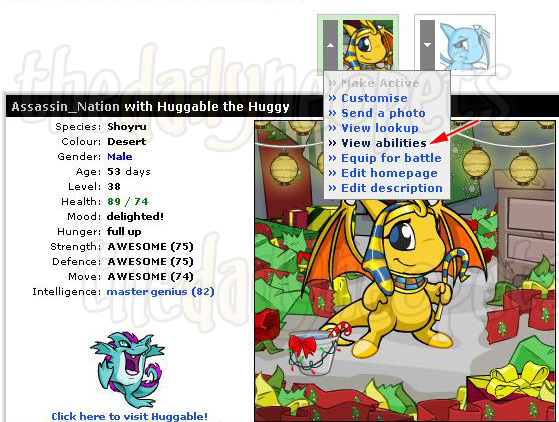 Here you will see all your pet's abilities. Click on the ability to activate it (you will know that it is activated if the name of the ability is in Bold and the picture is moving). To deactivate an ability click on the picture again. Remember that you can only activate 7 abilities at a time.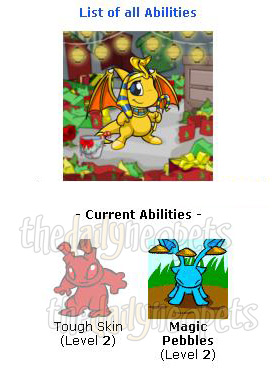 ---
1 Player Fights
Now that you have a pet, weapons and abilities, you are ready for a fight. You might want to try playing 1 player fights first in order to get used to the fights. 1 player Challengers are found all over Neopia. To fight them go to the 1 player page, choose your battle pet and click on the opponent you want to fight (I suggest going to Punchbag Bob or Inflatable Balthazar first for practice)

---
Inside a Fight
Now you are inside the fight page. All your weapons are listed there. Choose which weapons you want to use in a particular round (you can choose a maximum of 2 weapons) by click on the check box or the weapon's image. Then on the drop down menu choose which stance you want your pet to take or what species attack to do or faerie ability to use. Click the "Go!" button to continue to the next round. You have to reduce your opponent's Hit Points to zero in order to win the battle. If your Hit Points drop to zero before your opponent, you lose the battle. A draw will be given if both pets' Hit Points went to zero at the same time.
The power bar under each pet is tied mostly to faerie abilities. Faerie Abilities use 39% of your power on Strong, 20% of your power on Medium, and 10% of your power on Weak. Some faerie abilities can only be used on strong in 1 player battles, but can be used on Medium and Weak in 2 player battles. Once your power goes to zero, you will no longer be able to use any faerie abilities, stances, or species abilities for the remainder of the battle.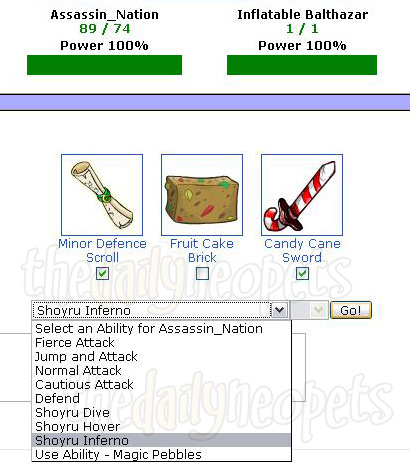 Stance

Effect on both you and your opponent's damage.

Berserk Attack
(Level 50+)

150%

Fierce Attack

140%

Jump and Attack

130%

Normal Attack

120%

Cautious Attack

100%

Defend

80%
---
Withdrawing from a 1 Player Fight
To withdraw from a 1 player fight, simply go to the Status Page. If your pet got stuck after withdrawing, follow the suggestions on our FAQ.
Remember: All unfinished 1 player fights will be automatically withdrawn by 12 am NST. So make sure you finish Punchbag Bob before that time.


---
2 Player Fights
In a 2 player fight, you will need to challenge (or get challenged) another player's pet. To challenge a pet, go to its lookup and click "Challenge".
After clicking the challenge button, fill up the challenge form by selecting which pet you're using, how long before the challenge expires and some other minor rules you might want to have (ex: No freeze, No Stat/pet altering, No stealing, etc).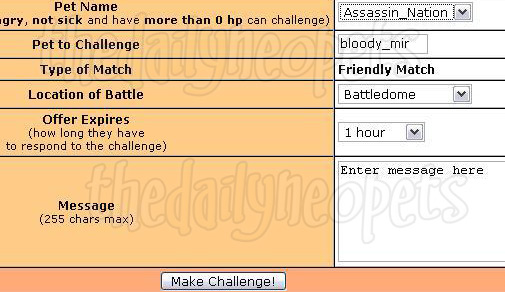 Now the challenge has been sent. Just refresh the Status Page until your opponent accepts/rejects your challenge.

Upon clicking the Enter Battledome button, either it is highly likely that either you or your opponent will get one of these error messages.
If you get this error message, it means that you have entered the fight, but your opponent has not. This is not a glitch, though it could have been phrased better. Just click back and enter battledome until you get through. If you keep getting this message, try contacting your opponent to see whether he or she is actually trying to enter the battledome.
If you get this error message, it means that a match was created by one opponent entering the battledome, but has now expired. Just click back and enter battledome until you get through.
---
Withdrawing from 2 Player Fights
If you already sent a challenge to another player but decided not to push through the fight then you can withdraw provided that the battle hasn't started yet. To withdraw, simply click on the "Click here" link below your challenge. It will transfer you to a page where you can finalize your withdrawal by clicking the "Withdraw" link. Remember to read the red text just above the "Withdraw" and it must be saying You can withdraw without the fear of penalty. If your pet got stuck after withdrawing, follow the suggestions on our FAQ.
---
Icon Types
There are seven types on icons in the battledome. They are shown below and are most commonly called (in order from left to right): Air, Earth, Dark, Light, Fire, Water, Physical.







Likewise, these show the icons being defended (or reflected) against.







---
Special thanks to Xepha and Crimson.
This article was written by BlackJaguar for The Daily Neopets' Battlepedia.
« Back to Articles Index
Welcome, guest!
[Your Wishlist]
[Login] [Register Acct]



Search Weapons
Neopets Battle Navigation
Neopets Battle Articles
Neopets Weapons Items
TDN Network