Credits
« Back to Articles Index
TDN Battlepedia is the result of a huge collaborative work made into a powerful database. This would not be possible without:
The former In-Depth Battlepedia
Weapon Lenders
Battledome Community
Those of you that send in tickets regarding errors
Reviewers
Current and Former Staff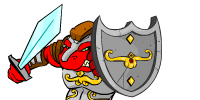 I could have never been a battler without you!
Thank you very much for your contribution!
This article was written by Crimsonite for The Daily Neopets' Battlepedia.
« Back to Articles Index
Welcome, guest!
[Your Wishlist]
[Login] [Register Acct]



Search Weapons
Neopets Battle Navigation
Neopets Battle Articles
Neopets Weapons Items
TDN Network